Over 100,000 Manuscripts, Books Burnt By ISIL across Iraq's Anbar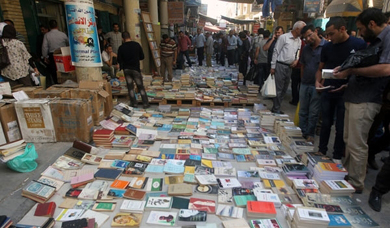 Photo: Over 100,000 Manuscripts, Books Burnt By ISIL across Iraq's Anbar
Arab World
Over 100,000 Manuscripts, Books Burnt by ISIL across Iraq's Anbar
Top Muslim cleric Ahmed al-Tayeb urges education reform to counter extremism
Saudi king: 'terrorism fueled international opinion against Islam'
New ISIS video shows Kurd fighters in cages
Egypt charges 215 Muslim Brotherhood supporters
Kurdish Fighters Recapture Villages from ISIL in NE Syria
Iraqi Troops Claim Lives of over 25 ISIL Terrorists
Egypt charges 215 Muslim Brotherhood supporters
Saudi king: 'terrorism fueled international opinion against Islam'
Egypt's leader says need growing for joint Arab force
North America
Homeland Secretary Johnson suggests term 'violent extremism' used at behest of Muslim leaders
Pundit Fact: Why Obama won't label ISIS 'Islamic extremists'
'We will never be gone from Afghanistan', US defense secretary says
Kerry and Zarif aim to narrow gaps in nuclear talks
Australia
Muslim leaders outraged by Tony Abbott's chiding over extremism
Europe
'Baroness Warsi gave official roles to people with links to extremist groups'
Election should galvanise British Muslims
Charlie Hebdo team struggles to heal after massacre
Russia offers Iran latest anti-aircraft missiles
France deploys aircraft carrier for ISIS fight
Six French have passports confiscated for planning Syria trip
Africa
Offensive against Boko Haram continuing: Nigeria army
2 bombs explode at residence of Iran envoy in Libya
Boko Haram violence hits fish industry in NE Nigeria
In South Sudan, a chance to be children again
US Homeland Security casts doubt on al-Shabab threat
Mideast
Israeli Forces Shoot 7 Palestinians with Live Bullets in Bethlehem
Turkish troops enter Syria to rescue besieged colleagues
Palestinians threaten to end security ties with Israel
Iran parliament agrees bill to tax religious groups
Hamas Says Not to Engage in Conflict with Any 'Arab Side'
Iran Strongly Condemns US Unrelenting Support for Terrorists in Syria
Netanyahu: Iran forming 'third front' on Golan
Hadi wants Yemen crisis talks moved outside Sanaa
Iran backing united Yemen in fighting terror: Diplomat
India
VHP general secretary asserts Ghar wapsi will continue
47 Muslims including Rajya Sabha MP Haji Abdul Salam felicitated
Does sale of sex toys violate Section 377, asks Delhi court
Iraq ordeal ends, 27 workers return
Pakistan
School books to have Quranic verses against corruption
EU values Pakistan's sacrifices in anti-terrorism war
Lal Masjid cleric has apologised for defending APS attack: Nisar
Nefarious designs of enemies of peace will be foiled: Shahbaz Sharif
4 members of Uzair Baloch, Baba Ladla groups killed
PML-N will rid country of terrorism, load shedding, price hike: Nawaz
Reuters' Pak-Afghan bureau chief found dead in Islamabad
Identity issue haunts Karachi's Rohingya population
EU values Pakistan's sacrifices in anti-terrorism war
South Asia
4 Army soldiers martyred, 45 insurgents killed in fresh military operations
Dr. Abdullah says peace talks with Taliban to kick off soon
Pro-ISIS militants attack a shrine and homes in Logar province
Bangladesh arrests five militants in raid on training camp
Abdul Jabbar verdict tomorrow
BNP-Jamaat planning grenade attacks
Nasheed denied right to appoint lawyer and appeal "arbitrary" arrest warrant, contend lawyers
Southeast Asia
Islamic tourism can draw more visitors: Indonesia
Indonesia prays Islamic tourism drive can draw more visitors
Opposition Leader Courts Muslim Vote in New Eastern Province
Indonesia considers new collateral for sukuk
Haul up Anwar prosecutor for qazaf, Muslim preacher tells Jais
Diplomatic Spats Antagonize Indonesians
Malaysia PM under scrutiny over wealth, opposition crackdown
Compiled by New Age Islam News Bureau
------------
Arab World
Over 100,000 Manuscripts, Books Burnt by ISIL across Iraq's Anbar
Feb 23, 2015
Over 100,000 books and manuscripts perished across Iraq's Anbar Province in a series of fires of the region's libraries set by the Islamic State of Iraq and the Levant (ISIL) terrorist group, the online newspaper Elaph reported Monday.
The London-based Arabic language online publication quoted Anbar Provincial Council Member Amal Fahadway as saying that as of Sunday, the ISIL has burnt more than 100,000 books, including rare and important manuscripts, across ISIL-held region.
"Armed elements of the Daash (Arabic designation for ISIL) bombed the public library in the Faisaliah area East of Mosul on Saturday, using improvised explosive devices," Ghanem Taan, director of Mosul's public library, was quoted as saying in a press statement, RIA Novosti reported.
The library director added the Mosul public library has about 8,000 cultural, historical and philosophical and scientific books, as well as a variety of poetry books.
The ISIL Takfiri terrorists currently control shrinking swathes of Syria and Iraq. They have threatened all communities, including Shiites, Sunnis, Kurds, Christians, Ezadi Kurds and others, as they continue their atrocities in Iraq.
Senior Iraqi officials have blamed Saudi Arabia, Qatar, and some Persian Gulf Arab states for the growing terrorism in their country.
The ISIL has links with Saudi intelligence and is believed to be indirectly supported by the Israeli regime.
http://english.farsnews.com/newstext.aspx?nn=13931204000637
----------
Top Muslim cleric Ahmed al-Tayeb urges education reform to counter extremism
February 23, 2015
The head of Al-Azhar, Sunni Islam's most prestigious seat of learning, has called for education reform in Muslim countries in an effort to contain the spread of religious extremism.
Speaking at counter-terrorism forum in the Saudi holy city of Mecca, Al-Azhar grand imam Ahmed al-Tayeb linked extremism to "bad interp